The server has some default email notifications that can be sent out directly to the user. A useful notification can be disk usage warnings. This allows the user to receive notifications when they reach their designated quota.
To start, you'll want to login into the server's WHM. Then search and click 'Tweak Settings.'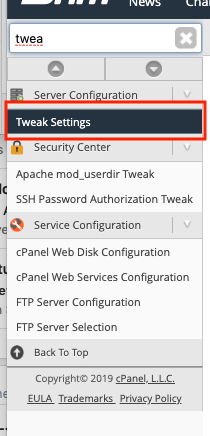 From there, click 'Notifications.'

Then you can toggle the 'Disk quota usage warnings' on or off depending on your preference. It is on by default, but you can easily change this.

Once you've set the notifications are set, scroll down and click 'Save Changes.'