This article assumes you're working with DoOO Admins who have an account in WHMCS. If they don't yet have their own WHMCS credentials, follow this guide.
Now when you log into WHMCS, you see right off the bat who's online by looking in the bottom left-hand corner of your screen: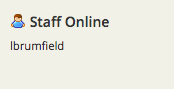 If you need to check out user logs on a given account, go to a client account and click the Log tab.

It will give you a date and description of the action, along with the user that made the action.