Reclaim Hosting no longer recommends Ninja Forms for DoOO request form creation, the default now being Gravity Forms. To learn how to set up your request form with Gravity Forms, you can visit our updated
How the Request Form Works
guide.
The Request Form is available for all DoOO Institutions, though it may be disabled by default if you have not previously requested it. When activated, all new users will be prompted to request an account before they can officially sign up for a cPanel.
Newer Domain of One's Own environments will be using Gravity Forms. If you've had DoOO for a couple of years now, there's a chance you could still be using Ninja Forms. You can read about the benefits of the request form, as well as working with Gravity Forms in our updated How the Request Form Works guide. Please let us know if you would like to switch from Ninja Forms to Gravity Forms.
Working with Ninja Forms
In the WordPress dashboard go to Ninja Forms > Dashboard.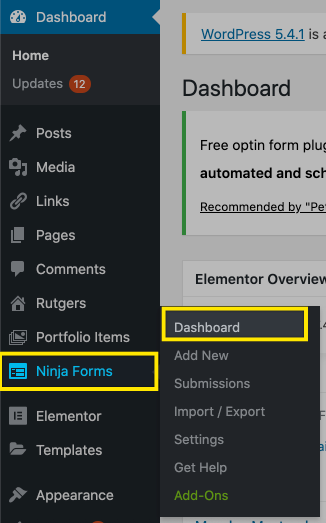 From there select "Interest Form."
Form Fields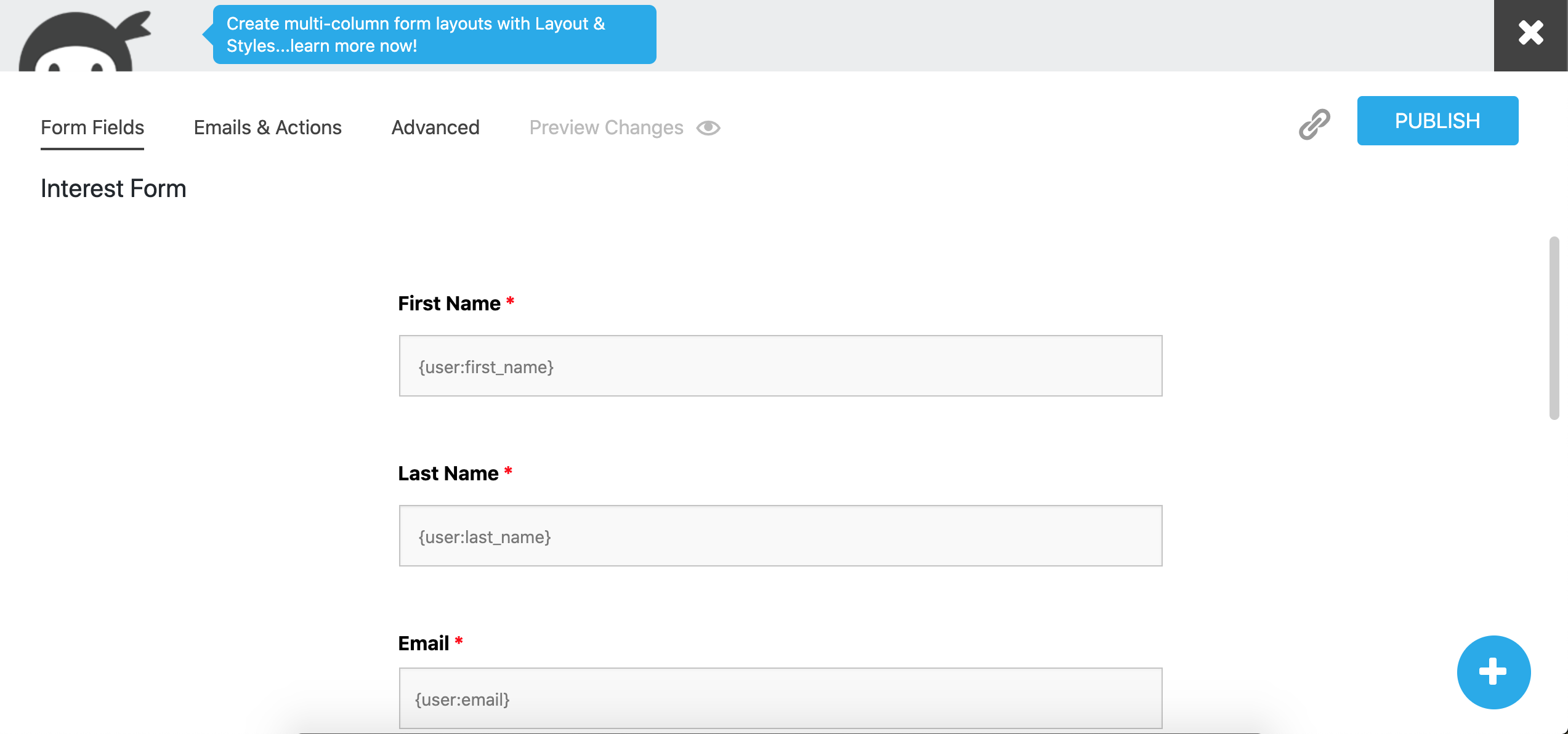 The form is editable through separate fields, much like the blocks in page builders such as Elementor or Gutenburg. Fields can be rearranged simply by clicking and dragging above or below other fields. Hovering over the field and then the gear in the top right allows you to edit, delete, and duplicate fields. The plus sign in the bottom right allows you to create new fields using a variety of preformatted options. Whenever you're finished making changes, hit Publish in the top right corner.
When editing a field, your view will split and look something like this:
Here you can edit and rearrange the options for the particular field, add a description, make a field required, and more.
Email & Actions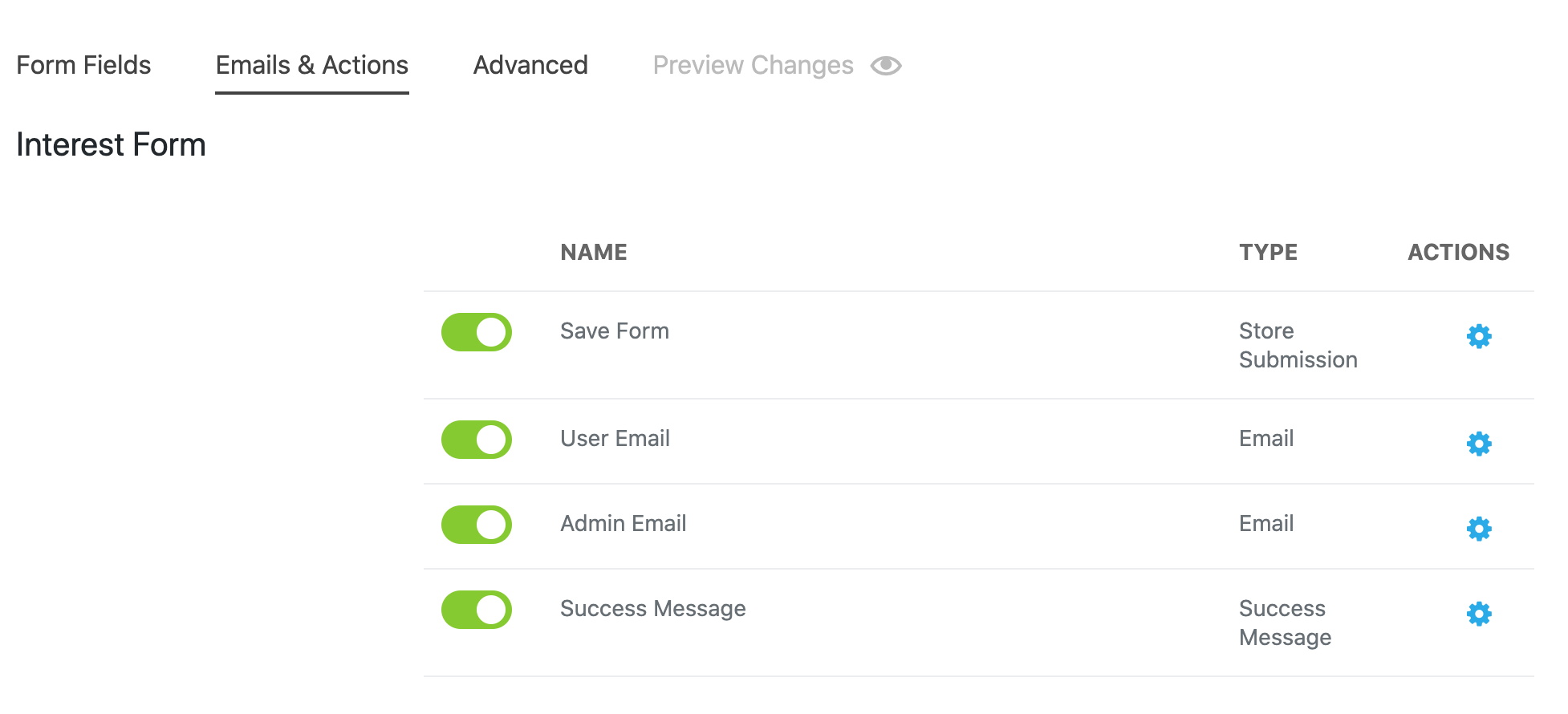 This section allows you to choose what happens once a form is submitted. Save Form saves it within the Ninja Form section titled "Submissions." Success Message gives users an on-screen confirmation that the form was submitted. Editing the Admin Email determines to what administrative email the form is sent. User Email sends the user a confirmation email that the form has been submitted and will be reviewed. All of these can be edited or toggled off.
Advanced
The Advanced section has more settings you can dive into. One to note is creating restrictions that you can toggle this in a few ways. For example, you can set it so only one form submission per email can be sent in:

Changing User Roles - Approval Process
A user signs in via SSO and then is given the option to fill out the request form. After they submit it, you receive their submission. After this, the admin will need to "approve" the user by switching the user's role from subscriber to author. There are a couple places you can change the role.
For a single user, go to the list of all users, hover over the user you would like to change roles, and select "Edit".

Then, find the field labeled "Role" and switch from subscriber to author.

For bulk changes, you can select all the accounts you'd like and simply toggle "Change role to..." to Author, and then hit change. This also works for just one user as well.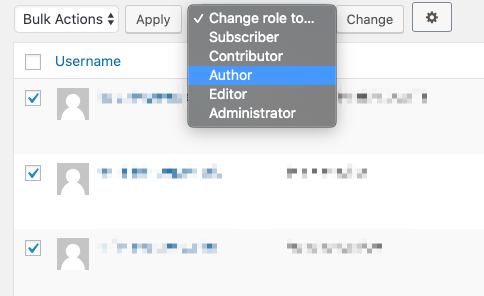 After this, email the user and let them know that once they log into DoOO they would be able to create their account and choose their domain/subdomain.
Viewing Submissions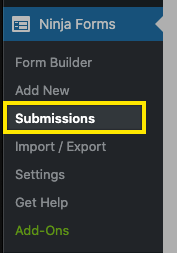 From the WordPress dashboard, select "Submissions" under "Ninja Forms". Then, under the "Select a form" dropdown choose "Interest Form."