At Reclaim Hosting we take pride in our customer support, with our fast, responsive and empowering team, we're always happy to help! Whether you have a question about FTP, email, your domain registration, or installing an application, we'll be there to take a look and teach you about the world of web hosting.
As a small team of Reclaimers, we've taken some different approaches to how we man our support team than other web hosting companies to make sure that you're able to see the best experience possible on Reclaim Hosting. This includes scheduled business hours and offered support through email rather than over the phone.
Business Hours
Reclaim Hosting is based on the East Coast of the United States and we're open for business M-F 8 am-5 pm. We strive to respond to your ticket within 1 hour of submitting during these hours and within 24 hours when a request is submitted outside of those hours.
We do have Reclaimers working different scheduled hours so you may receive a response outside of our scheduled hours but subsequent responses may be delayed.
Phone Support
At this time, Reclaim Hosting does not offer any phone support. As a small company, we've invested in building out our support infrastructure in a way that is scalable to our customer base primarily through email support and community forums.
As part of this, our approach to support involves sending along with screenshots and detailed step by step instructions as well as manual work on Reclaim Hosting's end to teach each customer that reaches out. We're able to efficiently work with our customers to solve any issues through email support.
Email
The best way to reach Reclaim Hosting for help is through email. Reclaim Hosting manages their support primarily through email, using Zendesk to handle the management of tickets.
You can email us directly at support@reclaimhosting.com with any questions, issues, or comments you may have and we'll be happy to take a look!
Community Forums
Reclaim Hosting's Community forums are another great option to get in touch with us! Not only do we have extensive documentation across all aspects of Reclaim's products, but this is also the perfect place for you to interact with the Reclaim Hosting community! You can bounce ideas based on what project you're working on, you're also contributing to the community by asking your question.
Contact Forms
Another great way to get in touch with us is through a few of our contact forms on Reclaim's website. Not sure where to get started? Need help moving content over to Reclaim? Want to ask a question about setting up Domain of One's Own at your Institution or even a Managed Hosting server? We've got the right forms for you! Here are some of the forms on our website:
Widget within cPanel
While you're working in your cPanel account, you'll see a widget down at the bottom of the screen that will give you access to submit a quick ticket to Reclaim. This is extra helpful if you have a quick question while working within your Reclaim account.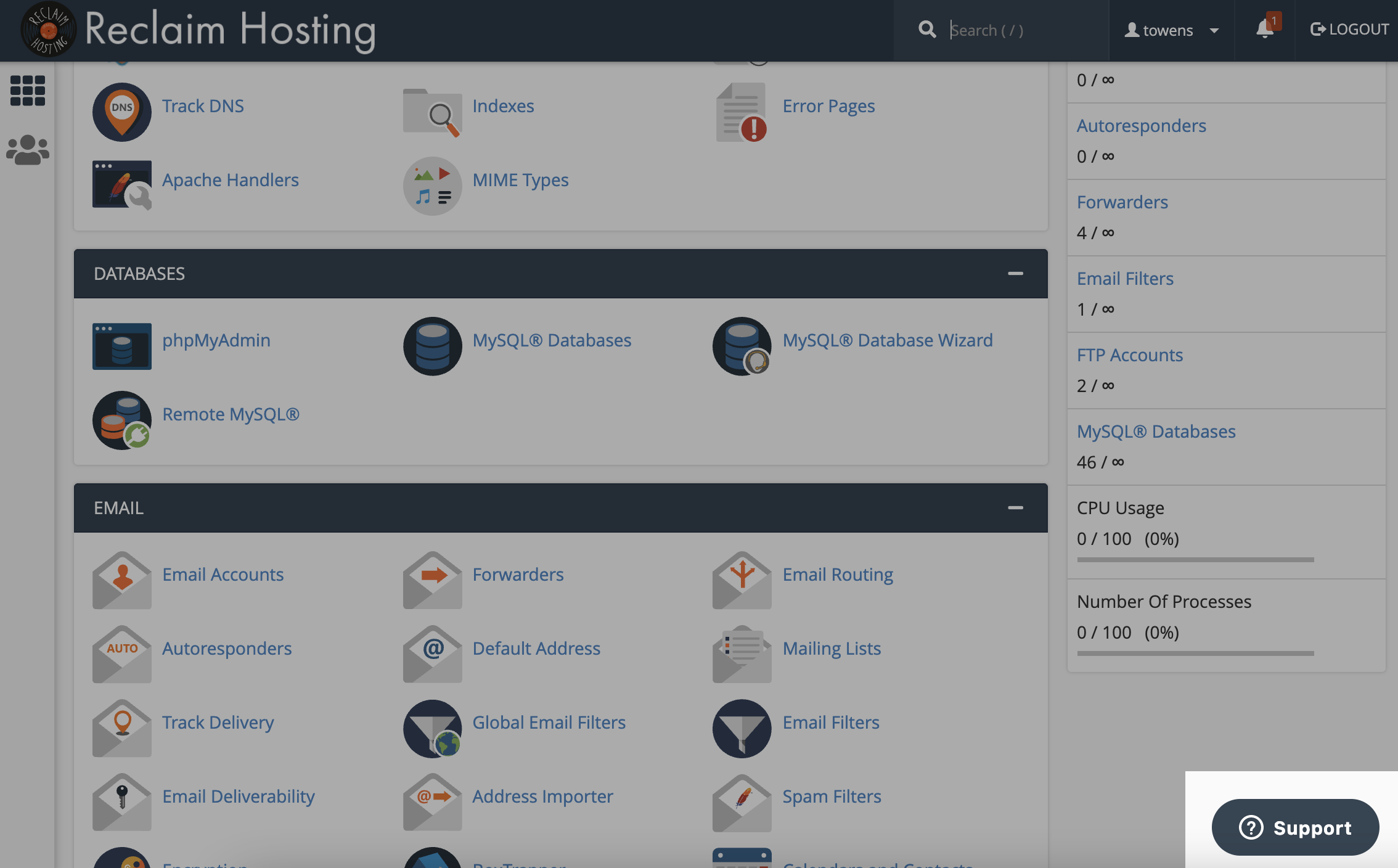 Client Area
You have a few options to submit a ticket directly within your Reclaim Hosting account. You'll see a few options to access these tickets, first through the Support menu item at the top of the screen. You can click to submit a ticket, view previous tickets, access the Reclaim Hosting Community Forums, and check on your server status.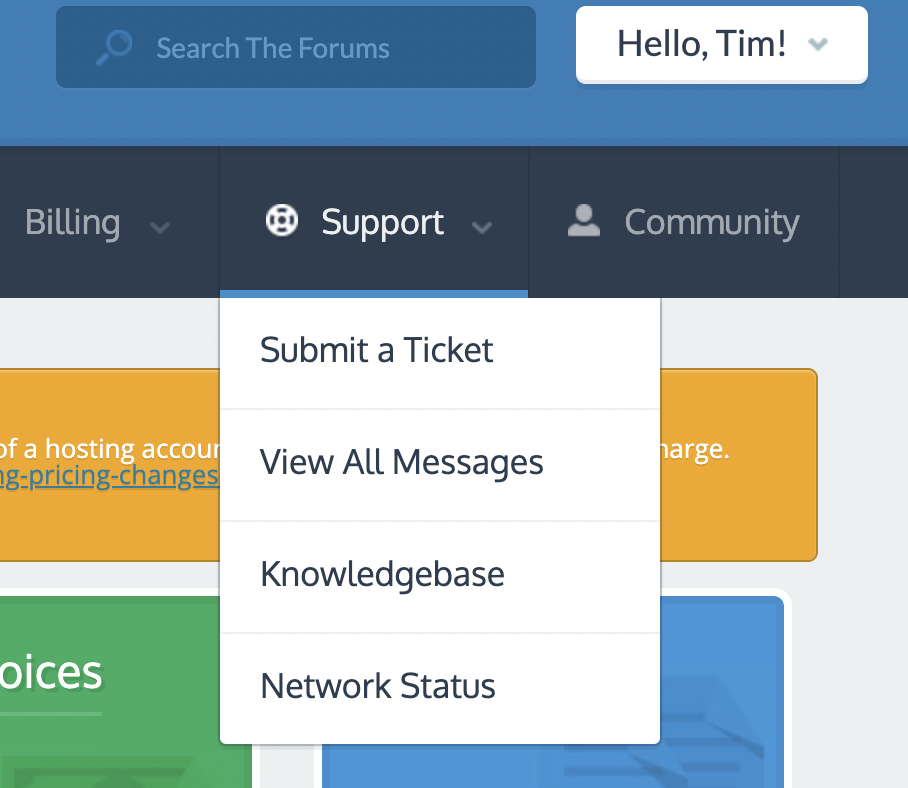 You can also click the blue Support button below the menu to access all tickets and create a new one. You'll also be able to respond to any open tickets here. You'll see a number in this box if you have any open tickets.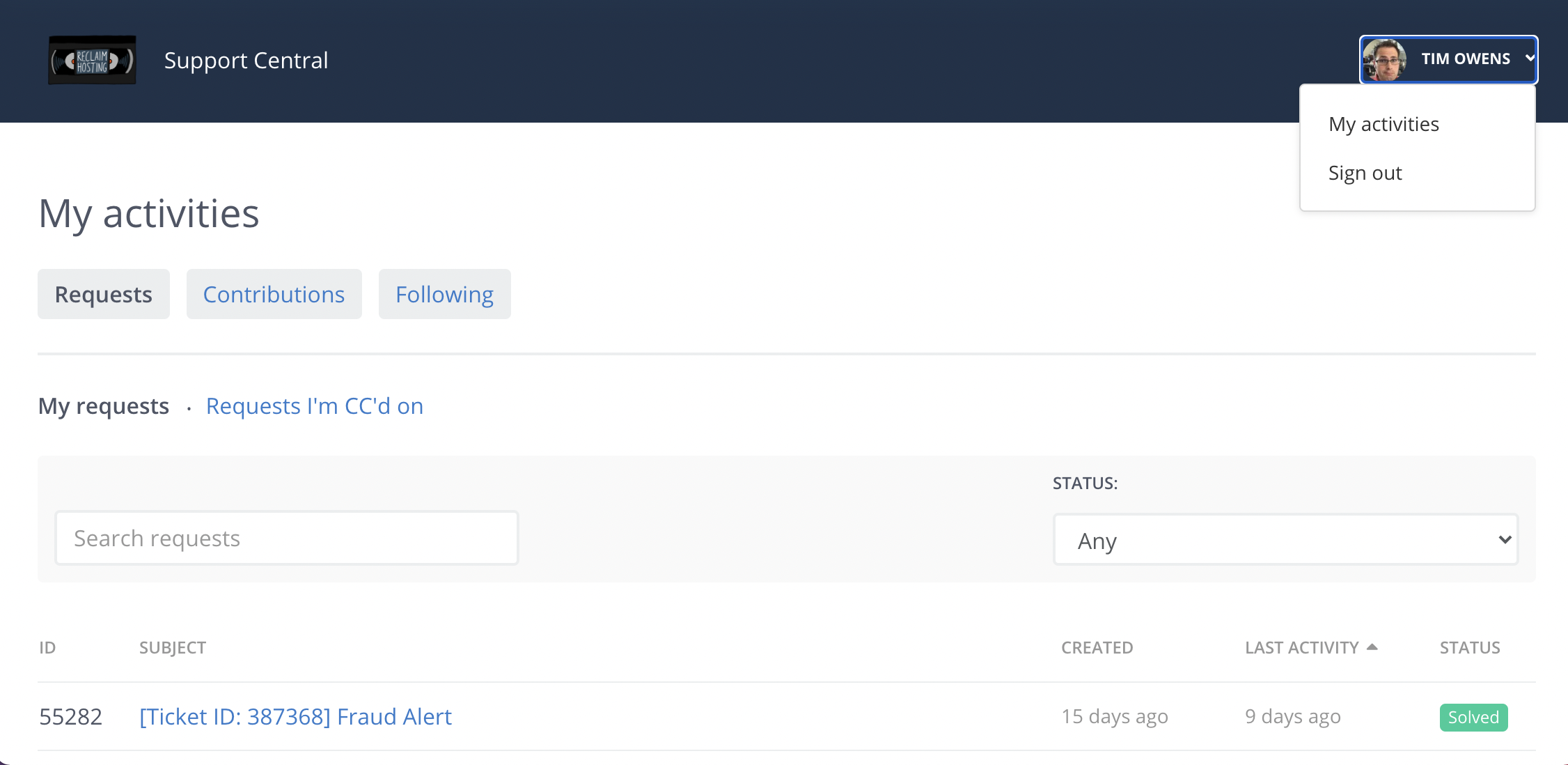 Company Holidays
Below is a list of holidays Reclaim Hosting observes. Users will experience slower response times during these holidays.
New Year's Day (on or around January 1)
Martin Luther King Jr. Day (Third Monday in January)
Presidents Day (Third Monday in February)
Memorial Day (Last Monday in May)
Independence Day (on or around July 4)
Labor Day (First Monday of September)
Columbus Day (Second Monday of October)
Thanksgiving Holiday (Fourth Thursday in November)
Christmas Eve (on or around December 24)
Christmas Day (on or around December 25)
Contact Us
Have any other questions? Feel free to reach out to us! We'll be happy to help. You can submit your questions on our Contact Page.