Have you ever wondered what happens when a domain expires? Or when an account with Reclaim Hosting expires? If yes, then this is the guide for you! In addition to a description of the various stages, we also have a graphic that shows the complete lifecycle of the domain and account process.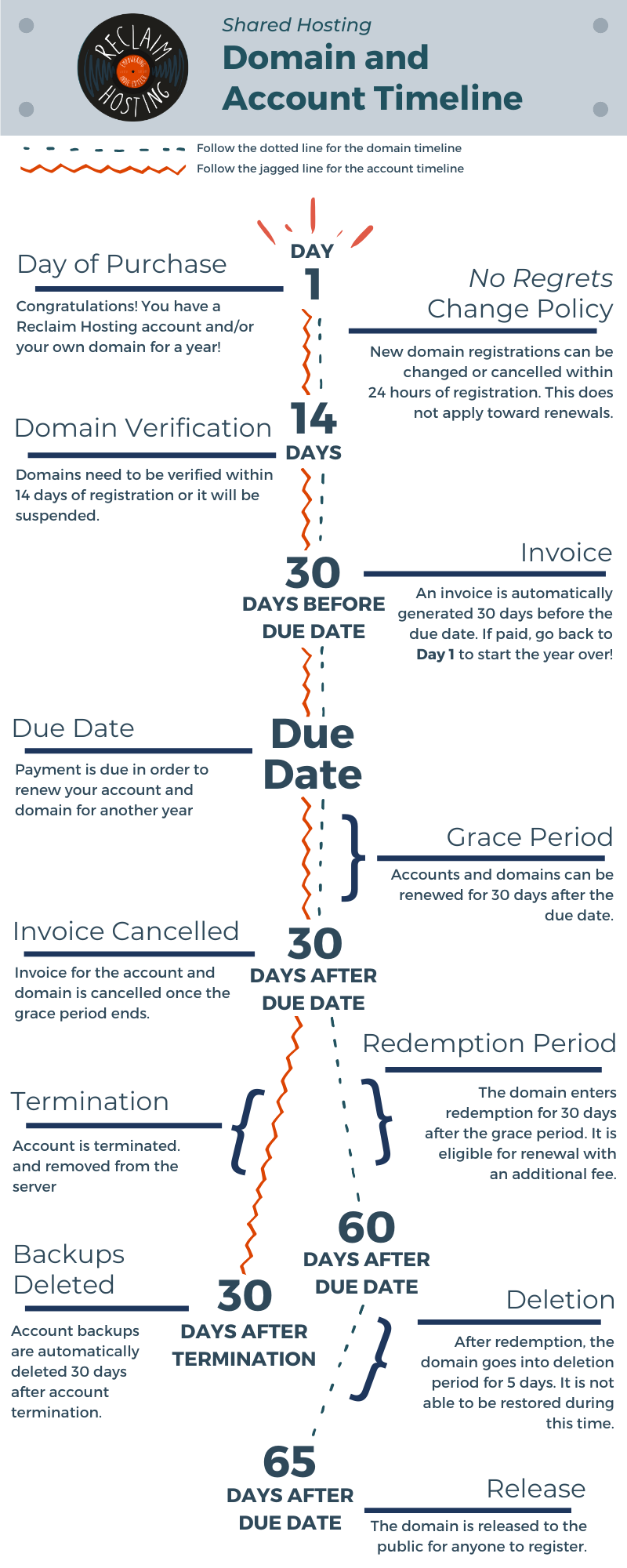 Expiration - 1 Year
Beginning 30 days before the expiration of your domain (which is typically 1 year after it was registered) you will begin receiving reminder emails that your domain is pending expiration. 3 emails are sent at the 30 day mark, 7 day mark, and upon expiration.
Grace Period - 30 days
Upon expiration you have 30 days to renew a domain at no additional charge. During this grace period the domain is inactive. Upon payment of the invoice, the domain is renewed for an additional year and pointed back at our servers. Simply login at https://portal.reclaimhosting.com and you should find an invoice to pay to renew.
Redemption Period - 30 days
Once the grace period for a domain name expiration has lapsed, it becomes very difficult and expensive to retrieve the domain. The domain enters a "redemption period" that lasts for 30 days. During this time only Reclaim Hosting support can retrieve the domain and the cost to do this is exorbitant (Usually $60 but sometimes more). This should be considered an absolute last resort if the domain is in the redemption period and you're worried about not being able to get it back when it becomes available. To use this option please contact support for an updated invoice.
Deletion Period - 5 days
Once the redemption period has lapsed the domain will be scheduled for deletion by the registrar. When a domain is pending deletion Reclaim Hosting has no recourse for getting the domain renewed and users will need to wait for the domain to become publicly available again to re-register it. Reclaim Hosting is not able to renew domains in the deletion period.
Availability
The final lifecycle of a domain registration where it is released to the general public. If the domain is a popular one often registrars will make very early attempts to register the domain, but in some instances a domain will simply become available in the general pool again and can be registered by any user.
Hosting Accounts
Hosting accounts are terminated and deleted sixty days after Grace Period for a domain. One final backup is made prior to terminating accounts on our server. Thirty days after hosting termination the hosting backup is deleted. This means if more than 90 days have past since your account expired we are unable to retrieve any data from your account. If the domain is available for registration again you are welcome to create a new account but we will not have any of the previous data.