What is a Top Level Domain?
In short, this will be the .com, .org, .net (etc.) in a URL.
A Top Level Domain (TLD) is a fancy way to refer to the right-most part of the URL that you might type into your web browser to visit a website.
For example, let's take a look at the following URL:
https://reclaimhosting.com
In this instance, "reclaimhosting" is the domain name, and ".com" is the Top Level Domain.
How much do TLDs cost?
All Top Level Domains are $15/year. TLDs can be purchased separately or in conjunction with a Shared Hosting Plan. You are more than welcome to register a domain for safekeeping or to point elsewhere, though if you want to use your TLD with a cPanel account at Reclaim Hosting, you will also need a Shared Hosting plan.
What TLD Extensions are offered at Reclaim Hosting?
| | | |
| --- | --- | --- |
| .com | .net | .co.uk |
| .name | .org | .org.uk |
| .uk | .ca | |

There are certainly other TLD extensions out there, but these are the ones available directly in house in order to keep costs low for Reclaim Hosting customers. If you're interested in registering a domain extension not listed above, you can still connect it to your Shared Hosting account later on. (Psst, we have a guide on how to do that here!)
How to Register a Top Level Domain at Reclaim Hosting
Click here to be directed to the Top Level Domain order form. You'll first want to make sure that your ideal domain name is not already registered elsewhere:

Once you've found a domain that's available, click continue. On the next window, you'll have the ability to add a shared hosting plan if you'd like. We also recommend clicking the checkbox to enable free ID protect, then click continue: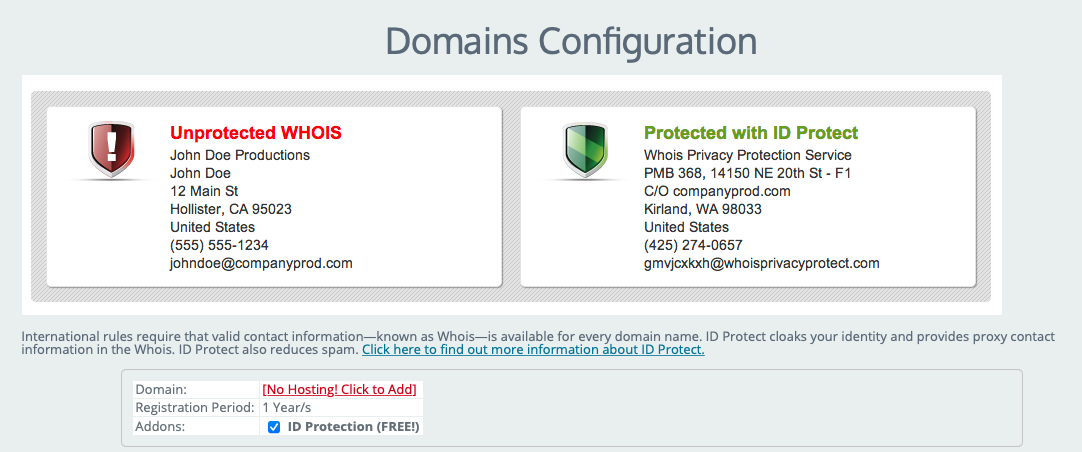 On the following window, enter your payment details and proceed with checking out. Once payment is complete, the domain will automatically register and populate in your Client Area Portal. If this not your first domain registration with Reclaim and you want to use the new TLD in your cPanel, you'll need to complete these extra steps.
Questions? Let us know here.